HOME - SCHOOL - DAY CARE - APARTMENT- CONDO - ACLF- NURSING HOME - HOSPITAL PROFESSIONAL RADON TESTING & EVALUATION SINCE 1990
E-Perm and CRM Rental
Short and long term Rad Elec E-Perm radon test devices and SPER Reader & Durridge Rad7 Continuous Radon Monitor/ w soil probe radon test device & Gamma radiation measurement equipment rental is available for vacant land, apartment and other large radon testing projects.
DOH Certified Radon Measurement Specialist Consulting
Florida certified radon measurement specialist consultant services offered to licensed Florida radon measurement businesses.
Radon Test Kits
Perform your own Radon tests with Airchek's Do-It-Yourself Radon Test Kits, the most widely used Radon test in the world.
Volume users including schools, hospitals, nursing homes, day care centers, and home inspection firms please be sure to ask about volume pricing, free Florida DOH report creation, and available hand held data logger for high volume Florida mandatory radon testing. Please email your quotation request.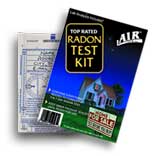 Contact us!
Associated Radon Services
Radon Testing Information
(772) 219-4334 --- FAX (772) 287-1341
---